About Us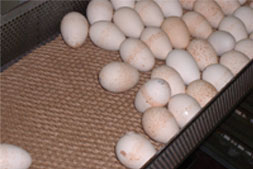 Midlantic Poultry Products, Inc has been serving the needs of the Poultry Industry since November of 1986. Following discussions with industry experts, the Midlantic Poultry Pad was invented in 1987.
The Poultry Pad was designed for hatch trays to allow maximum air flow in hatching machines, while capturing fluff and airborne contaminants, thus allowing for the best possible hatch and bird quality. The pad design also allows the newly hatched birds to achieve excellent footing, which significantly reduces leg problems and allows the birds to get onto their feet quicker, resulting in cleaner, dryer navels and overall excellent bird quality. Some studies have shown an increase of almost 5 saleable poults per tray (over 4%) when the Poultry Pad was used.
From the hatchery to the brooding house, the Midlantic Poultry Pad also provides cushioning and positive footing during transportation. This transport box pad is free from contaminants, unlike some other conventional materials.
The Poultry Pad is used extensively in the Poultry Industry throughout North America by such companies as Cuddy Farms, Cargill, Ag Forte, Hy-Line, Cobb, MacFarlane, Aviagen and Willmar.